Ta Muchly Paper Blooms is one of the most exciting new stores in Shopify. At Growth Suite team, we contacted Ta Muchly Paper Blooms team to learn more about their journey for this great store. You'll learn their amazing story and vision. Before going to our interview questions we firstly want to thank Ta Muchly Paper Blooms for this great interview.
1. Can you introduce yourself and Ta Muchly Paper Blooms?
Hi, I'm Michelle, the founder of Ta Muchly Paper Blooms. I create handmade paper flowers and also teach others how to make their own paper flower bouquets from crepe paper on my website and YouTube channel.
Ta Muchly Paper Blooms is about celebrating life's special moments, big and small with handcrafted paper flower decor.
Join me to learn how to make your own stunning paper flowers for every occasion. I regularly bring you fresh new paper flower tutorials, DIY paper flower videos and advice, as well as all the latest paper flower news on my blog.
From weddings, to birthdays and events, or simply just because you've had a nice day. It's about saying hello to a friend you've not spoken to in a while. It's about sending paper flowers to your mum - just because. It's about creating the perfect gift for a loved one - simply just to brighten their day.
Learn how to make DIY paper flowers, and celebrate the special moments with me.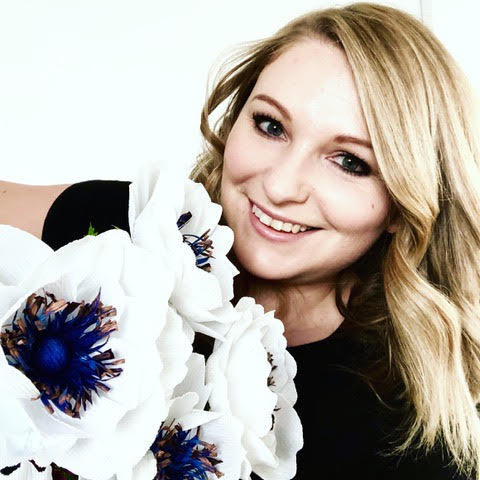 2. How was Ta Muchly Paper Blooms born? How did you start?
I've always had an interest in paper crafts, and have been running a sister company to Ta Muchly Paper Blooms called Ta Muchly for several years. Ta Muchly focuses on handmade papercut city maps, prints, and travel gifts, you guessed it - all made from paper!
During the early days of designing paper products for Ta Muchly, I stumbled across paper flowers and decided to give it a try. I watched one YouTube video, headed to my local craft store to buy supplies, and then started creating. I was instantly hooked, and I've been making paper flowers ever since!
I spent a long time teaching myself how to make various different paper blooms, perfecting each one and remaking it many times until I was happy with the design. Then I decided it was time to start sharing those designs with others, and what better way than with a YouTube channel, the exact same was as I started out!
I now have lots of tutorials and advice for begginer paper florists on the channel, as well as templates to download from my website, including some freebies!
3. What makes Ta Muchly Paper Blooms different? Can you explain your products with details?
I love teaching others how to make their own paper flower creations. I'm very picky about the materials I use myself and also recommend, using only the highest quality crepe paper gives the most realistic looking flowers.
I use and teach a variety of different techniques to make the flowers, some petals are hand coloured to get the perfect shade using inks, pastels and markers. They are then cut, glued, fringed, twisted, shaped and moulded, each petal and leaf individually, to create the bloom.
Each flower is intentionally made slightly different to the next so that they are more representative of nature, no flower is perfect, as in life.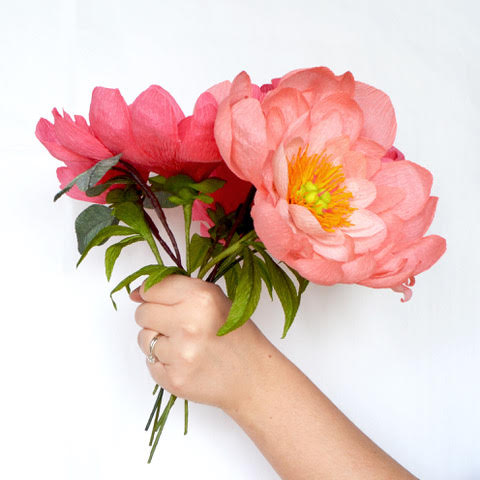 4. What reactions do you get from your clients? Do they love your products?
Most people that watch my YouTube tutorials can't believe they've managed to make a beautiful flower from crepe paper on their first attempt! (I have lots of begginer tutorials to try, that are quick and easy to follow.)
And most people that receieve one of my finished flowers, or one made by my students, can't believe that they're made from paper and not real!
5. What are the advantages of Ta Muchly Paper Blooms?
The main advantage is that my flowers don't die! If you've earned yourself a reputation for being a plant killer, then these are definitely for you!
I always finish my paper flowers with a UV coating which helps to protect them from fading and moisture damage. As long as the flowers are displayed out of direct sunlight, they should last for years without any maintenance, making them a great alternative to fresh flowers.
Another benefit to paper flowers is that you can easily create them in any color combination that you'd like, even if it doesn't exist in nature. So if you have your heart set on black roses, or silver peonies, you can make them from crepe paper instead!
I like to encourage my students to give the paper flowers they've made as gifts too, as receiving a handmade product that theyve taken time and care to create is so much more special than something mass produced.
Website
YouTube
Instagram
Facebook
Pinterest
Ta Muchly Website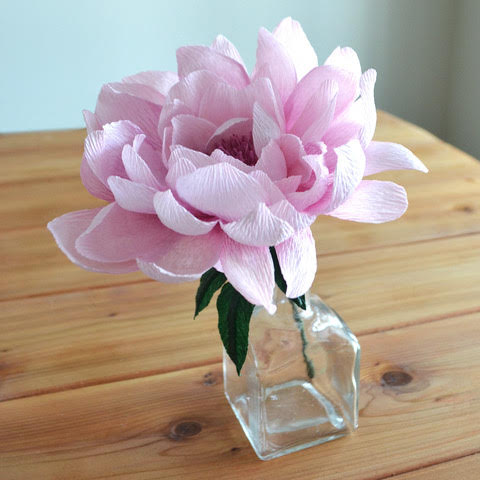 Our Reviews & Final Comments
Ta Muchly Paper Blooms website is secured with 128Bit SSL.
All customer information is safe and secure. Website follows all best practices and provide world wide shipping.
Customer support answer all of your questions quickly. Fast and free shipping, their customer support and product quality make them a winner in this market.
Our Reviews & Final Comments
Ta Muchly Paper Blooms website is secured with 128Bit SSL. All customer information is safe and secure. Customer support answer all of your questions quickly. We believe you'll hear Ta Muchly Paper Blooms with great news soon.