Project Fiasco is one of the most exciting new stores in Shopify. At Growth Suite team, we contacted Project Fiasco team to learn more about their journey for this great store. You'll learn their amazing story and vision. Before going to our interview questions we firstly want to thank Project Fiasco for this great interview.
1. Can you introduce yourself and Project Fiasco?
Hello, my name is Cynthia Weeks. I was born in Edmonton, Canada, but have lived and worked in different countries. I am a teacher, a children's book author and the founder of the social enterprise Project Fiasco, which has the goal of helping the environment.
2. How was Project Fiasco born? How did you start?
Project Fiasco started from my desire to see change in the world. One day I sat down and really thought about what I wanted to do with my life. Corny, I know. I knew I wanted to help the environment.
As a teacher, I saw how exposing children to ideas made a lasting impression. I felt that my generation and the ones before mine have not considered the long-term impact on the environment – and that must change. The next generations need to be armed with knowledge to create real change. And this is where the idea for the children's books came from. Again, corny! But the thought was to tell an interesting story, with beautiful illustrations, so that children can consider the impact of pollution on their own environment and how people can make a difference.
In addition to helping the environment, I also had a group of women in the back of my mind who I always wanted to help. I had volunteered to help teach English in Morocco many years ago and I learned that these women struggled to support themselves financially. I wanted to help these women in any way I could. This is not corny – this is the hard reality that so many people around the world face.
I combined my wish list of helping the environment, educating children about environmental issues, and helping in a small way, to support the fabulous women I met in Morocco become a bit more financially independent, into Project Fiasco.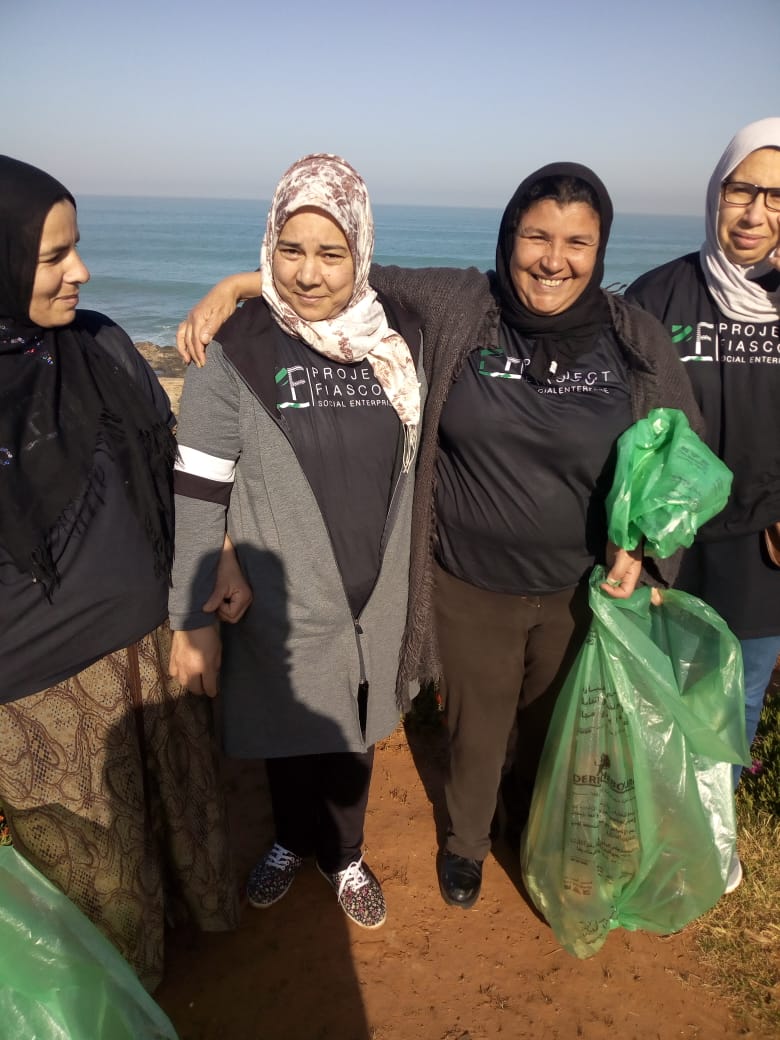 3. What makes Project Fiasco different? Can you explain your products with details?
As I mentioned, Project Fiasco is a social enterprise, so we use at least 50% of our profits towards environmental projects. We are currently funding a women's NGO in Morocco to clean beaches and plant trees. We feel good at not only helping the environment but also providing pay for women who have difficulty securing a regular income.
Our main products are a series of children's books called Princess Garbage – it is a twist on a traditional 'princess' story with an environmental and empowerment theme. The second in the series has just come out – with more in the series under production. The series is beautifully illustrated by Bilal Cinar. He is an incredible illustrator!
In addition to the Princess Garbage series, we are working on a new series called the Intrepid Adventurers. We are also working on a book called Love Stories from Around the World. It is a collection of love stories from people all around the globe. There are also tree planting certificates and other ways to help directly too.
4. What reactions do you get from your clients? Do they love your products?
We have many positive comments on the books. Everyone is amazed at Bilal's amazing illustrations; he really brings to stories to life. I have had comments from parents that their children want to read the book everyone night and that they asked many questions about pollution. A few people have even told me that they now, collect garbage with their children when they go out for a walk. I love it!
5. What are the advantages of Project Fiasco?
The great thing about purchasing a book from Project Fiasco is that you are also helping fund a pollution solution and helping employ women in need. My favourite story from our team in Morocco is of Douae. She is a high school student. She was not doing very well in her French and English classes. She asked if she could help clean beaches on the weekend to make money so she could pay for a tutor for these classes. I love that we were able to help her in some small way. And of course, we could not do any of this without the support of our customers.
Our Reviews & Final Comments
Project Fiasco website is secured with 128Bit SSL.
All customer information is safe and secure. Website follows all best practices.
Customer support answer all of your questions quickly. Their customer support and product quality make them a winner in this market.
Our Reviews & Final Comments
Project Fiasco website is secured with 128Bit SSL. All customer information is safe and secure. Customer support answer all of your questions quickly. We believe you'll hear Project Fiasco with great news soon.