Create Urgency Properly with Growth Suite, Increase Your Sales.
The Carpentry Shop Co is one of the most exciting new stores in Shopify. At Growth Suite team, we contacted The Carpentry Shop Co team to learn more about their journey for this great store. You'll learn their amazing story and vision. Before going to our interview questions we firstly want to thank The Carpentry Shop Co for this great interview.
1. Can you introduce yourself and The Carpentry Shop Co?
We are Julian and Natalie Dion, a husband and wife duo with a shared love for carpentry and design. We have two little girls, two dogs, and one cat. We both came from big families with siblings and lots of cousins. We feel it's important to mention our family as they are the building blocks that make us who we are. The Carpentry Shop Co., LLC creates one of a kind furniture for our customers, bringing unique pieces to their homes or offices. We scout various lumber yards throughout the East Coast to find the perfect lumber as each project is unique. We launched The Carpentry Shop Co. in 2020 at a time of true uncertainty. In a world where many things are out of our control we choose to focus on the things that are. Creating this business came from the notion that we could work on something we loved and have the opportunity to be creative and innovative everyday. As our family cheered us on, we bravely opened our doors to a world where everyone was locked in.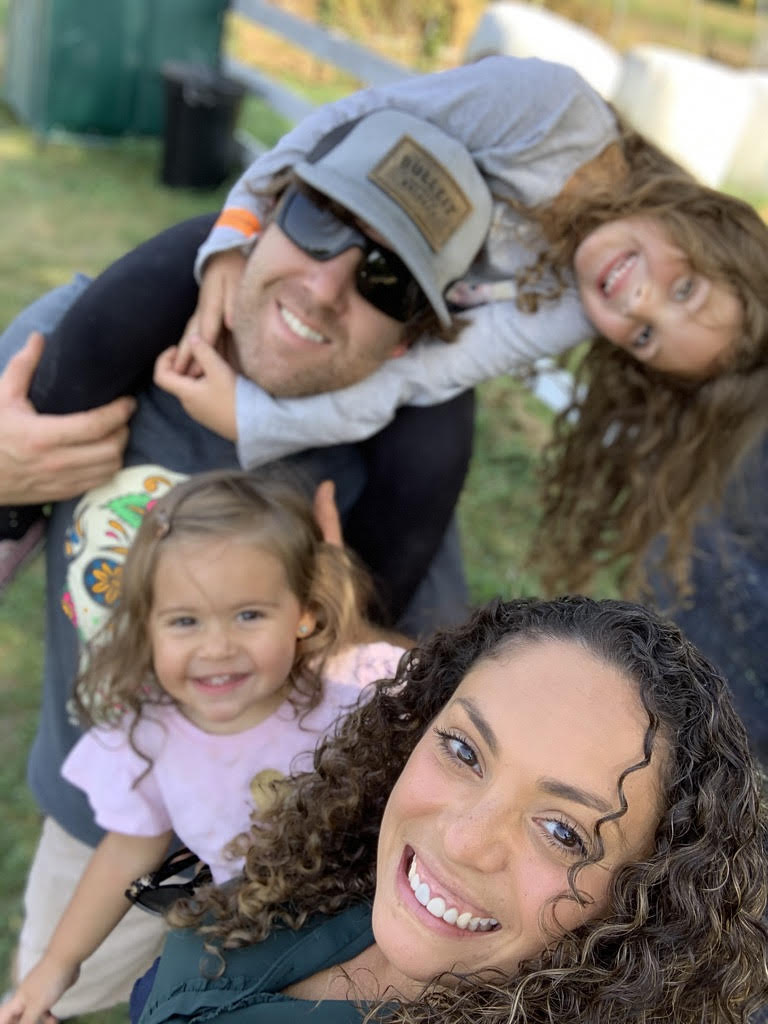 2. How was The Carpentry Shop Co born? How did you start?
The inception of The Carpentry Shop Co. truly goes back a few years. About six years ago, with our first child on the way. We left NYC and became first time homeowners. Excited about all the space we had, we began quickly purchasing furniture on a budget. Anyone who has purchased a home knows that there is no money left after closing. So we decided that we would make our own dining table. This is often a huge expense, so we knew we were making a smart decision. Side note, Julian is very handy and came from a long line of carpenters. We also owned the tools he would need to construct the dining table due to the fact that we also owned and operated an outdoor construction company. So, to make a long story short he made a reclaimed barn wood style table with upcycled antique steel legs. This was the first, but not the last, item Julian made for our house.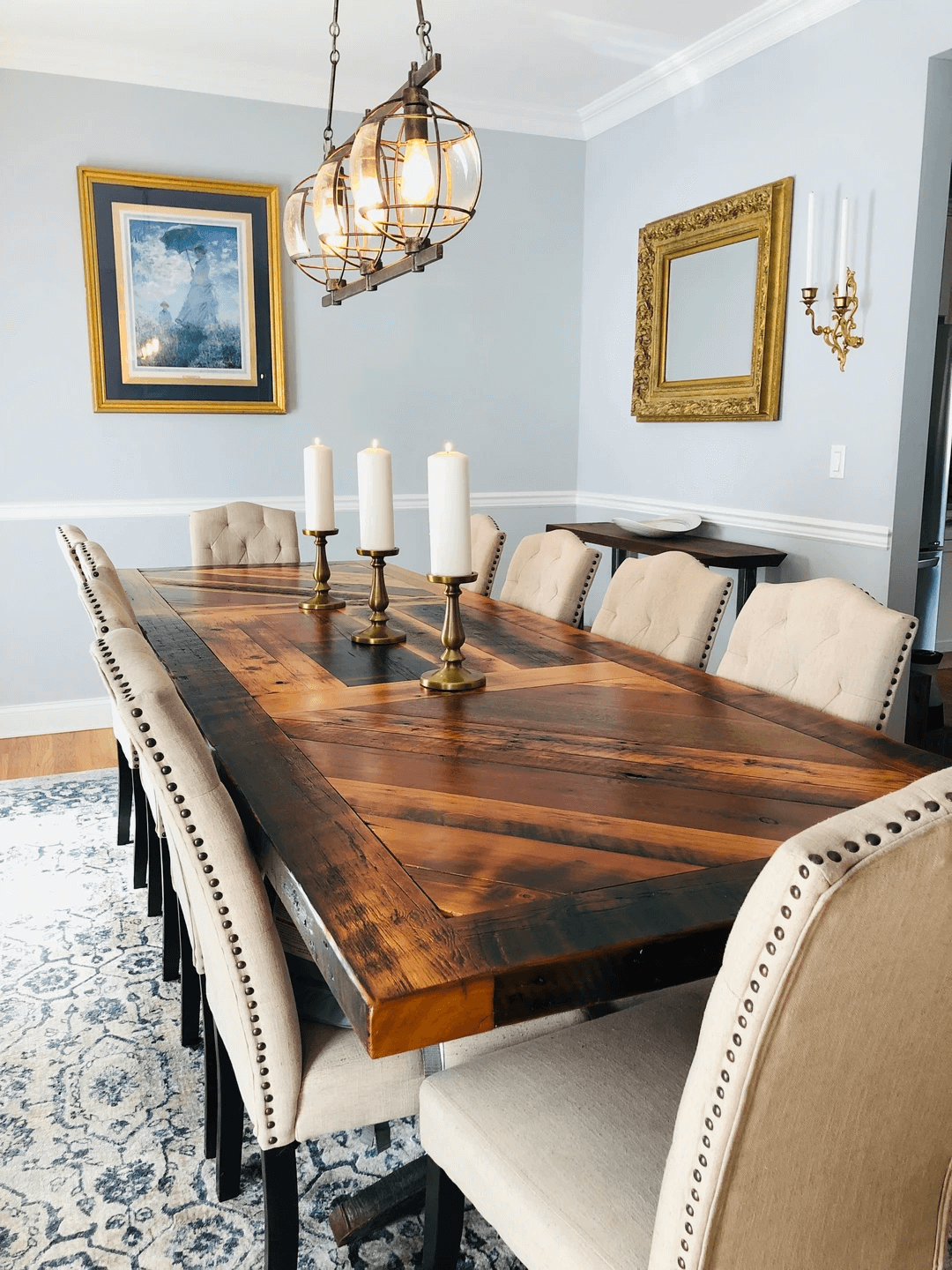 This was the seed that was planted and would later grow into The Carpentry Shop Co. As family and friends would visit, they would ask, "where did you get that table?" Or say, "wow, I love that mirror. Where can I get one?" Or "That entry bench is the perfect size, who made it?". Our answer was always the same. Natalie designed it and Julian made it. The years would go by and our outdoor contracting business was thriving. Our clients saw how talented we were and started asking if we did interior work. This is what gave us the courage to pursue our dreams and launch The Carpentry Shop Co. On February 4, 2020, Natalie quit a stable government job to help Julian run both companies full time. The first few months were scary but we are so glad we made the leap and couldn't be happier.
3. What makes The Carpentry Shop Co different? Can you explain your products with details?
This is actually a question we have been asked a few times and it has really made us think. What we have discovered is, The Carpentry Shop Co. is a very personal shopping experience. Most of our customers come to us because they want something unique, made from quality materials with superior craftsmanship. We love looking at peoples faces when they walk into the shop. It doesn't matter if you aren't into wood and tools, most people can't help but get excited. There are massive slabs lined up around the walls, each with a unique story of where it came from. The showroom is filled with different tables and benches. Some showcasing epoxy resin, others highlight different finishes. We love giving tours of our 5000 square foot facility. Our clients get inspired by the other projects going on and are delighted to discover that we make everything ourselves onsite. At the end of the day, our clients can be as involved as they want to be. Most items are in their raw form when a client commissions us for the project. It takes a little imagination and trust in the process before they see finished results. Other times, customers purchase items we have already made and are listed for sale on our website. Either way, each piece of furniture that they purchase from us becomes a special part of their home. It's a work of art, a conversation piece and legacy item they pass down but most importantly it's something that brings them together.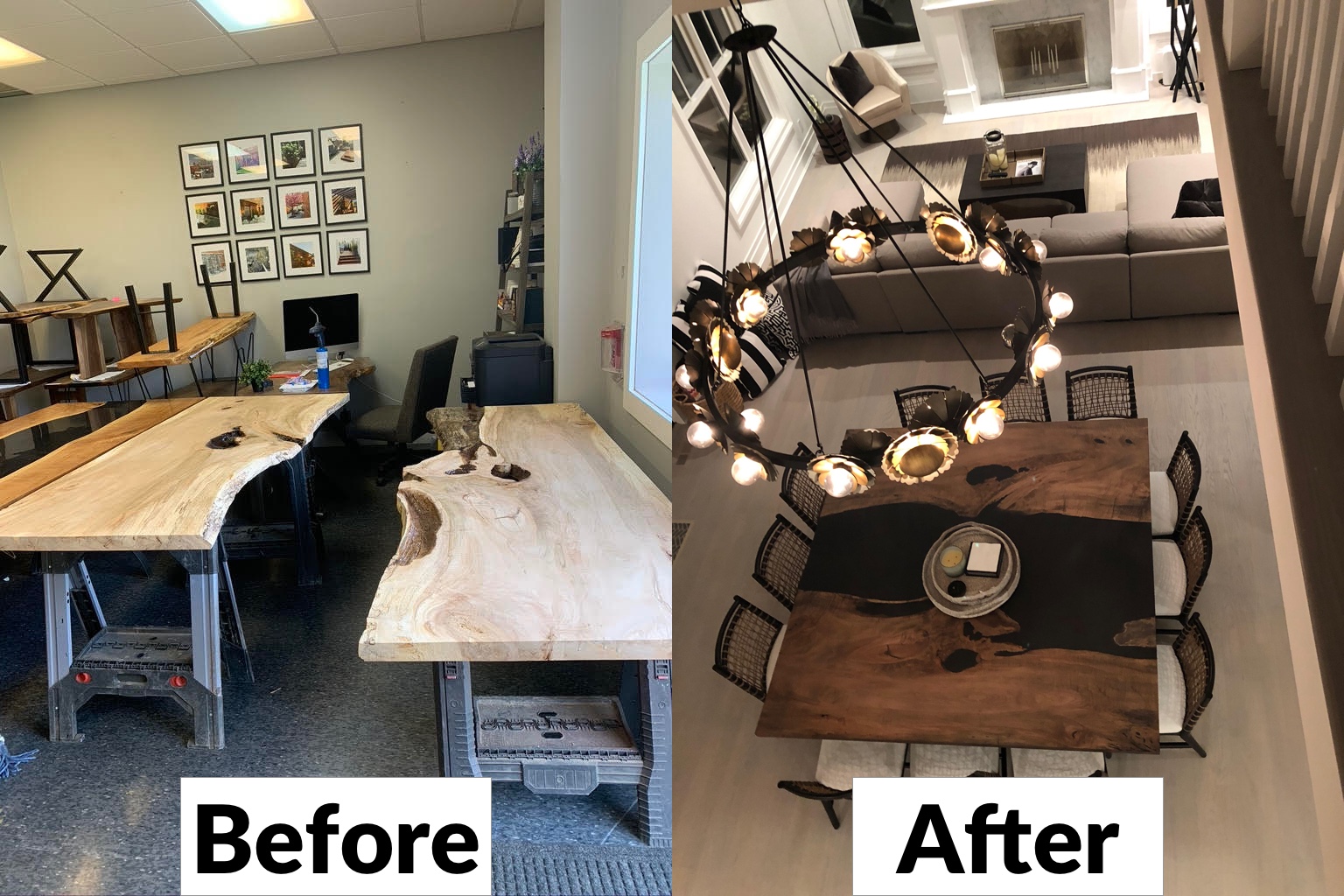 4. What reactions do you get from your clients? Do they love your products?
We have the best clients. They usually have an idea of what they want. Our clients are people who admire and love the beauty of wood. Many of our clients have different styles and that is what makes our job fun. People seek out The Carpentry Shop Co. when they want something authentic. We are honest about our materials, where they come from and how we plan on constructing their project. Our favorite part is the final reveal. Seeing their faces light up is the best. Sometimes we have the opportunity of delivering items to their home. We love seeing our work compliment their lifestyle. I would say our clients love our products and many of them often come back for more items.
5. What are the advantages of The Carpentry Shop Co?
Purchasing from The Carpentry Shop Co has many advantages. First, we are truly a small business so when you call or email you get a real person. Most likely you will speak directly with Natalie or Julian. Second, we care. We truly care about the work so we go the extra mile on every project. Third, we can customize just about anything. Fourth, we work with solid wood and try to ship things with little to no assembly. No ikea assembly here! Overall, we want you to have a great experience with us whether you purchase online or in person.
Our Reviews & Final Comments
The Carpentry Shop Co website is secured with 128Bit SSL.
All customer information is safe and secure. Website follows all best practices and provide world wide shipping.
Customer support answer all of your questions quickly. Fast and free shipping, their customer support and product quality make them a winner in this market.
Our Reviews & Final Comments
The Carpentry Shop Co website is secured with 128Bit SSL. All customer information is safe and secure. Customer support answer all of your questions quickly. We believe you'll hear The Carpentry Shop Co with great news soon.