Phat Bud is one of the most exciting new stores in Shopify. At Growth Suite team, we contacted Phat Bud team to learn more about their journey for this great store. You'll learn their amazing story and vision. Before going to our interview questions we firstly want to thank Phat Bud for this great interview.
1. Can you introduce yourself and Phat Bud?
My name is Phat Nguyen, I'm 24 years of age, the founder, creative director, and CEO of Phat Bud (phatbud.shop), and love to smoke a ridiculous amount of cannabis. My hobbies include consuming any and all products that are Tetrahydrocannabinol infused, growing and caring for my cannabis plants, turning friends and families into stoners, and basketball, lol.
Phat Bud is an online retailer that features cannabis art and designs with a mission, to normalize use of cannabis worldwide. Phatbud.shop offers DTG (Direct to Garment) prints on premium T-shirts, Hoodies, Fleeces, Crop Tops, Accessories, and many more products in our ever expanding catalog. All designs are produced with a team of designers based on the creative director's concepts. We here at Phat Bud are passionate and proud to be a clothing shop for stoners by stoners.
2. How was Phat Bud born? How did you start?
My passion for Cannabis grew when I was studying biology at UC Irvine. Being an immigrant to the United States, I was raised very conservative. My first time smoking cannabis was the summer before college. Before moving away to Irvine, my best friend, who smoked hella weed at the time, introduced me to cannabis. From then on, I have never gone a day without consuming weed. I worked at a dispensary during and sometimes after college as well, trying to find my way into the cannabis industry. Long story short, due to financial stability, I ended up at a big DTG printing company that prints and still is printing merch for top artists. This was where I began to gain the resources to start Phat Bud.
My time in college smoking cannabis, I not only studied how many benefits cannabis really provides at the biological level (and it's very healthy, I would even say necessary, to consume with little to no negative side effects), but also learned how society has twisted information about marijuana throughout history, marginalizing the plant due to ignorance and greed. This inspired me to found Phat Bud where our goal is to end cannabis ignorance and misinformation, and enlighten society and people to the true facts about cannabis's benefits through our designs. Cannabis in the United States is still listed as a schedule 1 substance, and people can still go to jail or even be sentenced to death in other parts of the world for possessing marijuana. That is RIDICULOUS, especially when the number of deaths caused by alcohol and tobacco is continually increasing, while the number of deaths caused by cannabis is equal to the number of deaths caused by unicorns and rainbows combined. A study conducted by Scientific Report even numerically showed that alcohol and tobacco are more than 100 times more dangerous than cannabis (Source: https://www.ncbi.nlm.nih.gov/pmc/articles/PMC4311234/). I can go on and on about the systematic and social oppression of cannabis, so I started Phat Bud to put that energy into building a cannabis clothing brand to help normalize weed. Cannabis in this world is now heading on a path to normalcy, where society has come to realize the true benefits of marijuana, but that is only true for some part of the world while other parts still live in the dark ages when it comes to cannabis. Cannabis will inevitably be normalized worldwide in the future, and Phat Bud will be on the front line spreading awareness with our designs to bring this reality into light.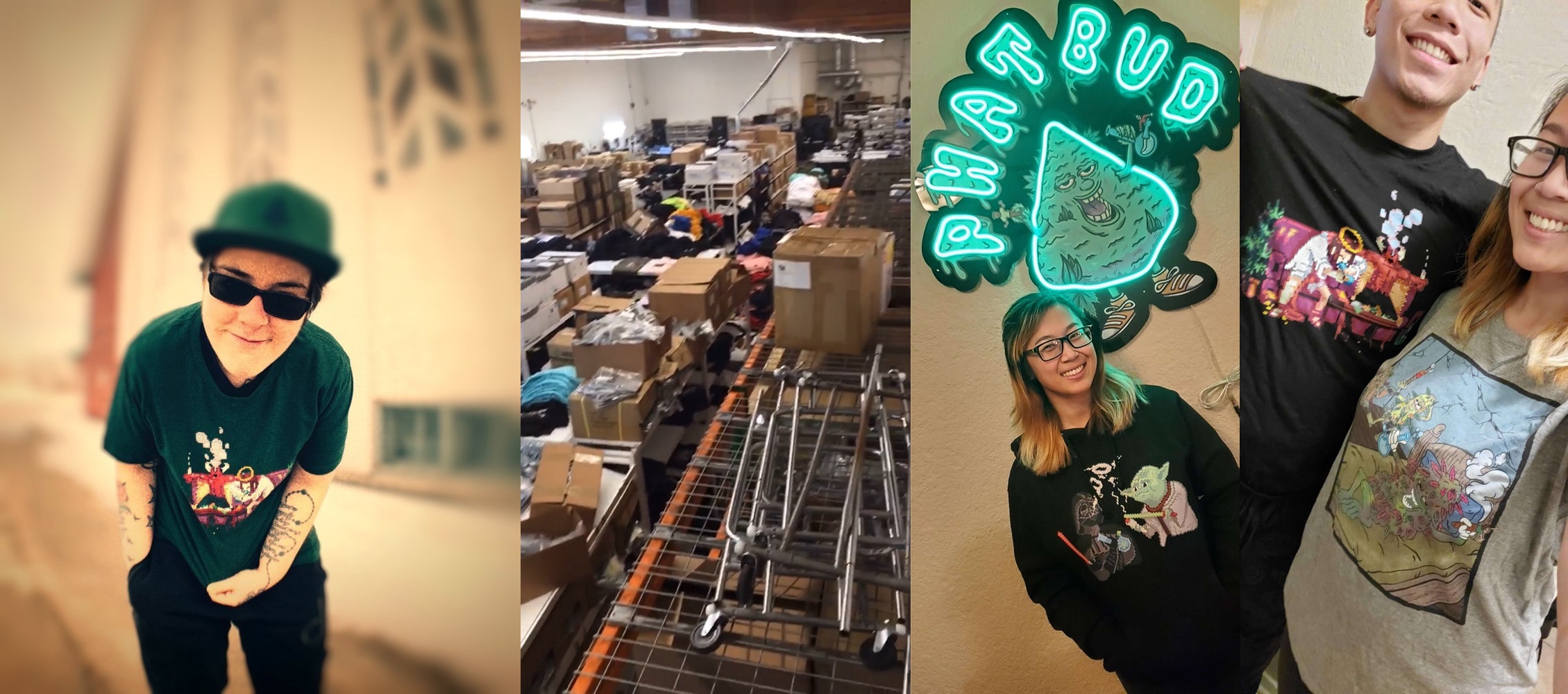 3. What makes Phat Bud different? Can you explain your products with details?
There are many reasons to what makes Phat Bud different but the 5 values that really sets us apart and define us are:
Unique: Phat Bud's uniqueness speaks for itself in the sense that it is the only online clothing store for cannabis enthusiasts that features conceptual cannabis art in many styles and forms. We are not the first online retailer that carries cannabis designed apparels, but we are the first (and at the moment the only) online retailer that offers solely cannabis designed streetwear. The heart of Phat Bud's uniqueness stems from our designs themselves. Each design is conceptually crafted to evoke emotions, and to challenge the perception of the viewers. This is also the reason why our designs don't have any form of texts on them (besides our "quote" tees). We want the viewer/ customer to experience our design like how one would visit an art gallery.
Passion: The Phat Bud team and myself are truly passionate in our craft. The design process starts with me sketching up a concept or idea to illustrate a message on cannabis. It then goes to the design team who I work closely with on production. We spend a lot of time in the creative process in order to craft the concept into a beautiful artwork. Certain designs may take several weeks to months to perfect, but we do it because we love it. Once the design is live and sold, we make sure all our customers are happy with their order with our superb customer service team dedicated to help with any inquiries. We plan on holding it down for the long run, so if you're a stoner, support us :)
Quota: Even though we love what we do, we still keep ourselves on our toes at all times with quotas to meet. We plan to drop new designs and products on a weekly basis while not missing a week. We pride ourselves on getting all orders printed, shipped, and fulfilled in time or earlier. We are working to vertically integrate all levels of manufacturing so we may (hope to) expand our products, designs, and brand to an international level. The goal of Phat Bud is to be an indefinite stoner clothing brand.
Quality: Not only are our designs are top tier and curated, our apparel selections are of the finest streetwear as well! We work closely with suppliers to bring the most comfortable high quality apparels and accessories. This has allowed us to offer many different options to our customers when choosing a product at an affordable price. We also take additional steps to make sure that our prints are also first-class for each order. This ensures the printed design is long lasting and will not just wash off and deteriorate after first worn. Our quality control team is always on the lookout for any defective products to make sure our customers get only the best!
Dedication: With a passion for cannabis, the Phat Bud team puts their deepest care into their work at every level to ensure our customers are satisfied. From printing to packing and shipping, we care for the product at each and every step. Like how a cannabis grower cares for their crops until the fruitful harvest is cured, we make sure to handle our products with the utmost care until they leave the warehouse in mint condition. We believe there is unity within cannabis.
Our mission is to help normalize cannabis in this movement, and in that brings unity on earth. We are dedicated and committed to our mission and our values, and we truly believe if everyone consumes and stimulates their cannabinoid system the world would be a much better place. Just like how cannabis is 1 species with different strains due to the environment they grew in, humans are one species divided by race, but we all smoke the same, so just light a joint up with each other :)
4. What reactions do you get from your clients? Do they love your products?
Our audience is are stoners, so they may forget to leave reviews sometimes :D But in all seriousness, we LOVE getting feedback from all our customers, good or bad, which helps us grow as a brand. Fortunately our reviews have all been positive thus far. Beside our great quality garments, customers love the concepts and art we put out! It's amazing when we receive messages from customers about how they could identify with or relate to a design. One of our top reviewed designs, "Tyson OG", consists of a personified cannabis fan leaf and a cigarette boxing each other, where the fan leaf is knocking the cigarette out. The concept and context is fairly clear with this design and many customers have sent us personal messages explaining how they relate to it and how cannabis has helped them or their family quit tobacco or alcohol abuse. Messages and reviews like these make us love what we do even more! We invite you to read some of the reviews, check out our website phatbud.shop, and visit our social media @phat_bud
5. What are the advantages of Phat Bud?
Some key advantages of Phat Bud are:
a. We are modularly integrated which allows us to provide our services and products to our customers on demand, ship worldwide, and able to process orders under a week. However, our goal is to vertically integrate so we may provide our services and products at an even higher quality at the same speed and value, support us and help us get there!
b. Our teams are top tier. The designers are highly experienced and talented. Our production and fulfillment team are well trained and skilled at their work. Our support team addresses all inquiries until customers are satisfied. While I bring my knowledge and experience of cannabis we all work as one big stoner family.
c. Our products and prints are of high quality. We source the best suppliers on the market to bring our customers grade-A comfort. Our print solution formula is unmatched. We take additional steps to pre-treat and lay multiple color layers to make sure the design lasts longer than smoking a joint that stretches to the moon.
d. With the current cannabis political and social affairs around the world, I see how society as a whole is coming to realize the benefits of cannabis. It is inevitable that cannabis will be a big part in future's society on earth, and Phat Bud will be in the forefront leading and spreading cannabis positivity through art. Normalize weed, let's keep the movement strong!
e. We welcome all audience bases whether it's your first time trying cannabis, or you're a hardcore stoner who smokes 5 oz in an hour, or even if you're just a mom who has a child using CBD for treatment. Everybody is welcome and please spread word of normalizing cannabis movement. "In a world where you can be anything, Be Kind"- Jennifer Dukes Lee. Be positive, and be kind, thank you for reading!
Our Reviews & Final Comments
Phat Bud website is secured with 128Bit SSL.
All customer information is safe and secure. Website follows all best practices.
Customer support answer all of your questions quickly. Fast shipping, their customer support and product quality make them a winner in this market.