Acqua Boss is one of the most exciting new stores in Shopify. At Growth Suite team, we contacted Acqua Boss team to learn more about their journey for this great store. You'll learn their amazing story and vision. Before going to our interview questions we firstly want to thank Acqua Boss for this great interview.
1. Can you introduce yourself and Acqua Boss?
My name is Frances Szmark, I have been running my own business ventures since 2003. I first started 'Mozzigear,' which are chemical free mosquito repellents for all ages. This brand has become very successful and popular, as it gives customers the choice to be socially conscious about what they put on their bodies, without losing its efficacy through the use of natural ingredients. I love to holiday and it was whilst on holidays in Boracay in the Phillipines in 2018, that I observed many tourists buying beach and pool inflatables. Buying a holiday float was costly, almost impossible to blow up, hard to deflate and usually ends up staying at the destination because its too hard to bring home. It occurred to me that I needed to make the perfect water accessory-Acquaboss, the ultimate travel water accessory.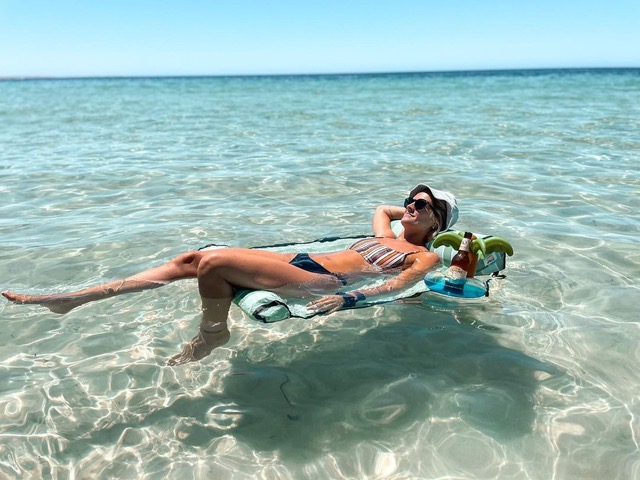 2. How was Acqua Boss born? How did you start?
The first thing that had to be done was to brainstorm what would make the perfect water accessory. Through discussions with family and friends, I narrowed down the possibilities. My floating device had to be portable; easy to use and carry; comfortable; to be able to sit or lie in it; to hold a mobile phone; to include a drink holder; to prevent hair from getting wet and it had to be stylish, lightweight and ultimately UV resistant.
Upon the discovery of the perfect product designer in Australia, it was time to start making prototypes of this perfect summer accessory! Next came the challenges of finding the best materials and how we could put it all together. Soon enough, we found the ideal design that represented exactly what we had been trying to achieve from our Wishlist. We had the prototype manufactured in Australia and also had the opportunity to test it in our hotel pool on a trip to China. My partner was the first to explore our new floating device, and it proved to be a great success. People from every corner of the hotel pool wanted to know where it had been purchased! It was especially popular for reading a Kindle while enjoying the added benefits. This was a very pleasing result.
3. What makes Acqua Boss different? Can you explain your products with details?
Acquaboss is different to anything else on the market, because it folds up as an easy to carry accessory, which is almost flat and easily fits into any travel bag. It has 2 small inflatable pillows that fit into the head and leg sections so that you are able to float comfortably in any water setting. You can sit up as in a chair,or lie down in comfort. The material we selected is UV rand mould resistant, which dries almost instantly. The Acquaboss is very light-weight and you don't need any pump to prepare it for use. The Acquaboss allows the user to lie on the sand at the beach without a towel, or take it on any water-based holiday. The Acquaboss also comes with a specially designed anchor point that allows you to securely attach any items. We also decided to include with every Acquaboss sale, a waterproof phone holder and drink holder. You can easily attach a dry bag with your valuables and not have to worry about leaving these unattended on the beach………They are securely attached to your Acquaboss.

4. What reactions do you get from your clients? Do they love your products?
I can honestly say that we have receive wonderful feedback from customers. They are so excited when they get to use it, with many customers commenting that it is the best pool/beach accessory they have ever used. We get thousands of happy users sending us instagram pictures everyday. It makes me very happy to recognise the success of the Acquaboss, as it is a dream that has now become a reality as well as a commercial success.
5. What are the advantages of Acqua Boss?
The Acquaboss can go anywhere, and honestly bring huge amounts of pleasure to its owner. No fuss, and with a lifetime of uses. It is especially advantageous in these tricky times of Covid and not being able to travel to far-off destinations as we used to. People have discovered that Acquaboss is the best item you can have anywhere there is water - the pool, the beach or the lake!
In fact, when you have an Acquaboss, any water use makes you a rockstar!! Like our motto says, Lie in it or sit it in, you're the Boss!!
Our Reviews & Final Comments
Acqua Boss website is secured with 128Bit SSL.
All customer information is safe and secure. Website follows all best practices.
Customer support answer all of your questions quickly. Fast shipping, their customer support and product quality make them a winner in this market.